COOPERATE SPONSOR

INTERNATIONAL SPONSOR
Asia-Pacific CEO Association, Worldwide (APCEO)
HOST IN CHINA (2015)
The Government of Henan Province, China
TIME & VENUE
Time: 2015.4.20-22
Venue: JW Marriott Hotel, Zhengzhou City, Henan Province, China
THEME
Emerging Industries——The New Power to World Economic Growth
WELCOME
Throughout the history of the development of world economy, enormous experience has shown that new industries always emerge from the deep integration of emerging science and technology, finance, industries and commerce, indicating the heading of scientific innovation and tendency of industrial development.
High-tech industries featured with high-end equipment manufacturing, internet, modern logistics, biomedicine, new energy, energy saving and environmental protection have been booming and great achievements have been made.
The WEIS aims at opening up a new prospect for international cooperation in emerging industries and is dedicated to promoting the cooperation in areas of information, technology, investment and brand. We look forward to working with new and old friends from all over the world, gathering together to discuss the development direction and hot issues of emerging industries for the purpose of jointly making the world a better place to live. ---By Hon. Dominique de Villepin, Global Chairman of APCEO, Former French Prime Minister and Xie Fuzhan, Governor of Henan Province
SUMMARY

- To promote information and technology exchange of emerging industries;
- To strengthen international economic cooperation within each emerging industry;
- To provide global investment opportunities of emerging industries for enterprises;
- To reflect on successful development models of emerging industries in different countries and regions;
- To explore effective ways of intellectual property rights protection and brand development for emerging industries.
HIGHLIGHT

1. Meeting High-Rank Government Officials
Main participants from Chinese government:
• Leaders from Chinese Central Government
• Mr Guo Gengmao, Secretary of Henan Provincial Party Committee of the CPC
• Mr Xie Fuzhan, Governor of Henan Province of China
• Government leaders from other cities of China
2. Keynote Speech
Theme: Emerging Industries – The new power to world economic growth
High-level Forum on Specialized International Cooperation
Track A: Forum on internet & modern logistics.
Track B: Forum on global high-end equipment manufacturing industry.
3. The 9th China Henan International Investment & Trade Fair (CHIITF 2015)
The CHIIITF 2015 will be held concurrently with the WEIS 2015 in the same place. This is an influential activity with more than 100,000 audiences and more than 5,000 exhibitors each year.
4. Key Cooperation Projects Signing Ceremony
Participants exchange cooperation intentions before the summit and sign intentional strategic cooperation agreements during the summit.
5. A cooperative trip to Zhengzhou Airport Economic Comprehensive Experimentation Zone
It is the first national zone led by aviation economy with the approval of Chinese central government. Based on the construction of large-scale aviation hubs and air freight strength, the zone focuses on high-end manufacturing and modern service industries.
6. Emerging Industries focus on
• Internet & New Info Tech
• High-end Equipment Manufacturing
• Intelligent Manufacturing
• New Energy & New Energy Vehicles
• Environmental Protection
• Modern Logistics
• Digital Service
• New Materials
• High-tech Service Industry
• Biotechnology & New Medicine
• Creative Industry
7. Focused Topics
• Internet
Mobile Internet
Internet Security
Cross-border e-commerce
Big data and cloud computing
Internet banking
Internet and smart city
• High-End Equipment Manufacturing
Industry 4.0 and intelligent manufacturing
3D printing technology
Intelligent Robot
Aviation equipment and manned spaceflight
• New Energy
New energy and green city
New energy vehicles
Wind power and photovoltaic's recovery
Wave energy, microbes and other future new energy
• Modern Logistics
Low-Carbon logistics
Internet of things: start the next round of logistics information revolution
Government co-ordinate and logistics development
Future trends: wisdom logistics
Discovery of international cooperation opportunities in the summit host city—Zhengzhou and Zhengzhou Airport Economic Comprehensive Experimentation Zone
PARTICIPANTS

- Political figures and government officials from China and abroad;
- High executives from Fortune 500 companies and Forbes 2000 companies;
- High executive from renowned listed companies;
- Leaders from industry-leading companies within world emerging industries;
- Renowned economists, experts and scholars in related fields;
- Leaders of related international organizations and industry associations.
GAINS
- Listening to the comments from world-renowned scholars (including Nobel Prize winners, economists, and authors of best-sellers), business leaders and political figures on popular topics in emerging industries and perceiving the wisdom of masters.
- Having deep communication and cooperation with industrial leaders and senior management from prestigious enterprises (Fortune 500 companies, Forbes 2000 companies); Getting to know the latest scientific achievements, exploring the latest trends in the industries and obtaining the latest information.
- Obtaining the opportunities offered free by the organization committee to present the brands and images of enterprises in advanced emerging industries, new and high-tech products and projects.
- Obtaining opportunities to exchange with Chinese government officials and to know China's current condition of economic development and investment opportunities.
- Having the priority to access quality cooperation opportunities, including service offering and investment cooperation.
- Attending a series of activities organized by the host government, including visiting emerging industries in Henan and doing some sightseeing at scenic spots and historic sites.
AGENDA

Item
Time
Activity
April 20th, 2015, Monday
Registration
All day
Registration: JW Marriott Hotel Zhengzhou
Government Meeting I
17:30-18:00
Key guests of the 3rd WEIS 2015 meet with leaders of the summit host Henan Province
Banquet
18:00-20:00
Government reception banquet for international cooperation and exchange






April 21st, 2015, Tuesday
Registration
All day
Registration: JW Marriott Hotel Zhengzhou
Breakfast
07:00-08:30
Buffet breakfast
Visit the Exhibition
09:30-12:00
There will be Image Exhibition, Subject Exhibition, Commodity Exhibition and Internet Exhibition in Zhengzhou International Convention and Exhibition Centre (next to JW Marriott Hotel) and all the guests are welcomed to visit these exhibitions.
Lunch
12:00-14:00
Buffet lunch
Visit
15:00-17:00
Visit to Zhengzhou Airport Economic Comprehensive Experimentation Zone
Government Meeting Ⅱ
18:00-18:30
Key guests of the 3rd WEIS meet with leaders of the summit host Henan Province
Banquet
18:30-20:00
Government reception banquet for international cooperation and exchange






April 22nd, 2015, Wednesday
Breakfast
07:00-08:30
Buffet breakfast
Opening Ceremony
09:30-10:00

Opening Ceremony of the 3rd World Emerging Industries Summit &

Opening Ceremony of the 9th China Henan International Investment Trade Fair




Guests to be invited to address:

- International political figures/heads of state

- Leaders of Chinese Central Government

- Leaders of Henan Province

Keynote Speech
10:00-12:00

Theme: Emerging Industries, the new power to world economic growth

Guests to be invited (Part)

-Jeremy Rifkin, bestselling author of the Third Industrial Revolution, and the founder and president of the Foundation on Economic Trends of Washington DC.

- Release of World Emerging Industries Development Proclamation by APCEO

- Executives from Google/Microsoft/IBM/HP/Alibaba

- Executives from UPS/DHL/FedEx/TNT/COSCO Logistics

- Executives from Apple/Honeywell/ABB/Siemens/Samsung/China Datang

- Executives from Tesla/Veolia/Gamesa/BYD/YingLi Solar

- Other speakers

Summary
12:00-12:10
Summary made by the summit leader
Lunch
12:30-14:00
Buffet lunch
Signing Ceremony
14:30-15:00
Promotion of the Chinese 3 national strategic planning, emerging industries & the signing ceremony of the key cooperation projects
Forum on specialized international cooperation
15:00-18:00

Track A: Forum on world internet & modern logistics

Session 1: speech

Session 2: Q & A




Track B: Forum on global high-end equipment manufacturing industry

Session 1: speech

Session 2: Q & A

Dinner
18:00-20:00
Dinner for the investment and financing of world emerging industries






April 23rd, 2015, Thursday
Departure of guests (Guests check out of hotel before 12:00)
** During the summit, there will be Image Exhibition, Subject Exhibition, Commodity Exhibition and Internet Exhibition in Zhengzhou International Convention and Exhibition Centre (next to JW Marriott Hotel) and all the guests are welcomed to visit these exhibitions. **
PHOTO GALLERY
Registration and Sign of the 3rd WEIS out of the Hotel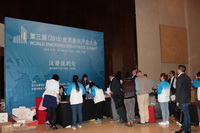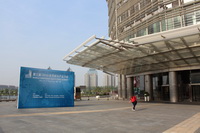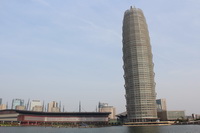 Government Meeting and Banquet
Visit 9th China Henan International Investment Trade Fair Pavilion
Opening Ceremony & Keynote Speech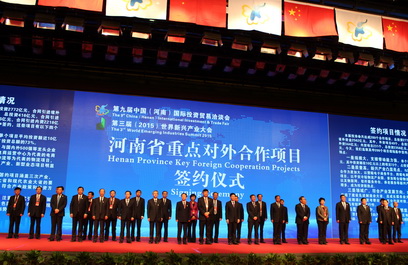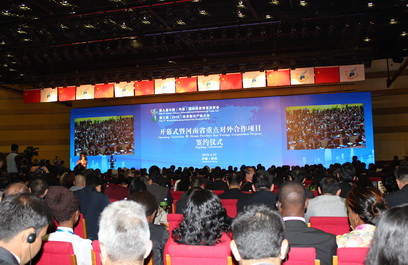 Roundtable Meeting
Track A: Forum on world internet & modern logistics
 
Track B: Forum on global high-end equipment manufacturing industry & Biomedical Coorperation Conference