The World Emerging Industries Summit is a top-level conference on international cooperation of the world's emerging industries. Initiated by the Asia-Pacific CEO Association, a renowned international economic organization, the summit enjoys robust support worldwide. Sponsors include political leaders, industrial leaders and government bodies.
International Sponsor: Asia-Pacific CEO Association, Worldwide (APCEO) , Investment & Innovation Global Council (IIGC)
Host in China (2019): Zhengzhou Municipal Government of China
Time: April 7-9, 2019
Venue: Dahe Jinyue Zhengzhou, Zhengzhou City, Henan Province, China
Theme: Emerging Industries—New Dynamic, Fresh Opportunities!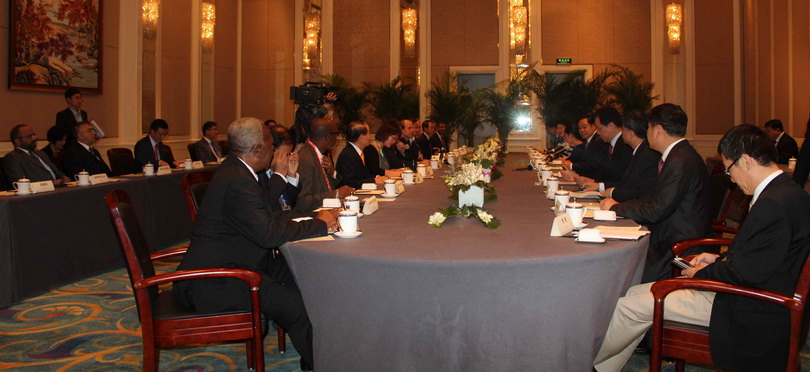 The development of emerging industries will unfold a new round of global industrial revolution and global industry and technology transfer. Led by developed countries, emerging industries will be the focus of global industrial restructuring and industry and technology transfer, setting fresh agendas for global economic cooperation, international trade and investment.
Emerging industries came into being with the invention and application of new technologies in different countries. They take shape through either the industrialization of new technologies or upgrading traditional industries. At the current stage, emerging industries centre on:
- New energy
- New materials
- Energy conservation and environmental protection
- Electronic automobiles
- Biomedicine
- Information networks
- High-end Manufacturing
- Modern Service Industry ... ...
SUMMARY
- To promote information and technology exchange of emerging industries;
- To strengthen international economic cooperation within each emerging industry;
- To provide global investment opportunities of emerging industries for enterprises;
- To reflect on successful development models of emerging industries in different countries and regions;
- To explore effective ways of intellectual property rights protection and brand development for emerging industries. 
MAJOR TOPICS
- Auto/New Energy Electric Vehicles
- Biological Medicine
- Big Data
- New Material
- A Whole Industry Chain Approach for Modern Chemicals Industry
- Industrial Internet /Intelligent Manufacturing
- 5G Communications
ATTENDEES
| | |
| --- | --- |
| - Foreign Heads of State | - Officials from Governments |
| - Fortune Global 500 | - Forbes Global 2000 |
| - China's State-Owned Enterprises | - Top 500 Enterprises of China |
| - Top 100 Global OEM Parts Suppliers | - Top 50 Biological Medicine |
| - Global Auto Parts Manufacturing | - Pharm Exec's Top 50 Companies |
| - The Top 10 Biotechnology Companies | - Top 100 Medical Device Companies |
| - Top 10 Semiconductor Companies | - Top 10 IC Foundries |
| - Top 50 Construction Equipment Makers | - Big Data 50 |
| - MEMS 30 | - Green 500 |
| - Top 250 Global Energy Company Rankings | - Top 100 Logistics Companies |
| - Global 100 | - Global Innovation 100 |
| - Fortune's 100 Fastest-Growing Companies | - The Top 100 Hedge Funds |
| - Head of bank in developed countries | - Brand Finance Global 500 |
| - Head of Stock Exchanges | - Top 1000 World Banks |
| - Global Investment Companies 5000 | - Emerging Industry Technology Experts and Academic Leaders |
Agenda
Time
Activity




Apr. 7, 2019(Sunday)
09:00-24:00
Airport Pickup, Registration in Dahe Jinyue Zhengzhou

18:00-19:30

Dinner Buffet




Apr. 8, 2019(Monday)
07:00-08:00
Breakfast Buffet
09:30-11:30
Gather at the lobby of Zhengzhou Dahe Jinyue Hotel to the Zhengzhou International Convention and Exhibition Centre (ZZICEC) to visit China (Henan) International Investment & Trade Fair

12:00-13:30

Lunch Buffet
14:00-14:30
Government meeting




14:30-15:10

Opening ceremony of WEIS 2019

Moderator: Wang Zhengfeng, Vice Mayor, Zhengzhou city

speakers:

-Lord Francis Maude, Former Minister of State for Trade and Investment & Former Minister for the Cabinet, United Kingdom;

-Wang Xinwei, Mayor of Zhengzhou city;

-APCEO releases the Report on the Development of World Emerging Industries ;

-APCEO releases the Zhengzhou Declaration on World Emerging Industries Cooperation.

15:10-15:30
Key Cooperation Projects Signing Ceremony




15:30-17:20

Keynote speech & High-level Forum of WEIS 2019

Moderator: Zheng Xiongwei,Global Exuecutive Chairman of APCEO

Speakers:




-George Benaroya, Former Vice President of P&G

-Dong Zhi Gang,Vice President of Global, SAP

-Prakash Kirpalani, President APAC of Quatrro Global Services

-Vladimir Agabekov, Director of The Institute of Chemistry of New Materials, Academician of National academy of sciences of Belarus

-Peter Illes, Professor of Pharmacology, Member of Academia Europe

17:40-19:00
Government Reception Dinner



WEIS Cutting-edge Technology/Project Announcement Release and Financial Matching Conference& Preparatory Meeting for the World Emerging Industry Cooperation Fund

Speakers:

-Sung-Ho Suck Salk, Professor Emeritus, Permanent Fellow of the Korean Academy of Science and Technology

-Denis Nkala,Regional Representative (Asia & Pacific) of UNOSSC

-Kevin Gaylynn Kindall, Senior Data Scientist of Hartree Partners

-Vladimir Šimović, Full Prof and Dean of University Zagreb/University of Applied Sciences Balazar Zapresic

-Avner Man, Head of the Project of LightPoints

-TAO BINGLIN, President of Sheri Pharmaceutical Companies

-Hashem Aghazadeh, Executive and Support Deputy Science and Technology Park and Professor of University of Tehran

-Jerry Li, President of Canada-China Society of Science and Technology

-JIANPING FAN, CEO of EMERALTECH

-Nureddin ATOU, Chairman & Co-Founder of Cyberteq PTE LTD

-Roland Akiki,Senior Vice President of Holy Spirit University of Kaslik





Apr. 9, 2019(Tuesday)
-Business Visits: On-site visits of institutions with contracts or with corporation intentions for further cooperation.

-Check-out before 12:00 noon